The GameDuell fairness guarantee
Equal starting conditions. Both players get the same sets, cards or levels.
Fair matching. You can only play against opponents that have a similar skill-level.
Free selection of opponents. It's you who chooses whom you want to play with.
Read more about
Fair-play at GameDuell
Game rules Oh Hell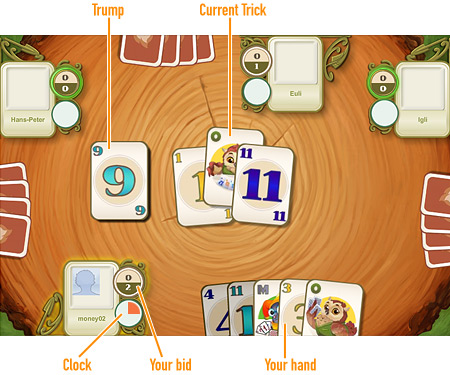 Aim of the game
Guess correctly before each round how many tricks you are going to win.
You receive plus points for each correct bid. The player with the most points at the end of the last round wins the duel.
Playing
A duel is comprised of several rounds - the first round begins once all players have joined the table.
The player who correctly guesses their bids throughout the duel, and therefore has the most points at the end, will be the winner.
You can find more information on how to play Oh Hell in the Oh Hell game rules
Controls
In order to make your bid, simply click on the desired number on the pop-up which appears.
To play a card, click the card you wish to play from your hand. If you are required to follow suit and attempt to play the wrong card, you will be informed and will have the option to choose a correct card.
---

The clock shows the remaining time for your turn or for your opponent's turn. Players have 15 seconds to take their turn. To make a bid, players have 30 seconds. If the time is exceeded, the current game is lost. If the time is exceeded several times in a row, the entire duel is lost. The clock is positioned next to the player whose turn it is.
---

The deck contains all cards that have not been dealt. The top card determines the trump color. You can then trump using numbered cards of this color - you can also read more information regarding this in the game rules.
---

The bid display shows you what bids each player has made in the current round. In addition, you also see how many tricks the player has already won.
---

You can deactivate the chat by clicking on the chat button (at the top right of the screen). To view the previous chat messages in the duel, simply click on the chat history button.
---

Clicking on the game rules button gives you a short overview of the rules and an explanation of the joker cards.
---

You can view the current score in the duel by clicking on the points button.
---

You can turn the sounds on and off by clicking on the volume button.