The GameDuell fairness guarantee
Equal starting conditions. Both players get the same sets, cards or levels.
Fair matching. You can only play against opponents that have a similar skill-level.
Free selection of opponents. It's you who chooses whom you want to play with.
Read more about
Fair-play at GameDuell
Game rules MahJongg
The game Board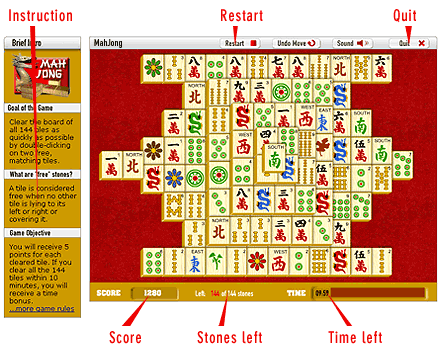 Object of the Game
Click two identical tiles to clear them from the board. Only free tiles may be selected.
Try to clear the board of all 144 tiles as quickly as possible.
What are "identical tiles?"
Two tiles are considered to be identical when they both bear the same exact symbol.
There are a total of 7 groups of tiles:

- Chinese Characters (4 of each of 9 unique symbols)
- Bamboo (4 of each of 9 unique symbols)
- Circles (4 of each of 9 unique symbols)
- Directions of the Wind (4 of each of 4 unique symbols)
- Dragons (4 of each of 3 unique symbols)
- Seasons (1 of each of 4 symbols)
- Flowers (1 of each of 4 symbols)

Seasons and flowers can be matched in any combination within their sets.
All other tile sets must perfectly match.




Matching tiles (above: "7 Circles" and "Direction of the Wind East")
When is a tile free?
A tile is free when no other tile is (even partially) covering it.
There cannot be other tiles on the same level to the left and the right of it.
If it were possible to slide a tile to the left or the right without disturbing another tile, then it is considered free.




Selectable tiles (above: 3 Circles and Green Dragon)
Points and Time Information
You are given 10 minutes.
You will receive 5 points for each cleared tile.
For clearing all 144 tiles, you will receive 720 points.
You will receive an additional 1.6 bonus points for each second that is left over after clearing the board.
For every restart (see below), 10 points are deducted from the result
Caution: "No more possible moves"
Not all paths will lead to your intended destination. If you clear the tiles in the wrong order, you might get stuck and run out of moves. If that happens, you are given the opportunity to restart the game from the beginning ("Restart") and to try a different path. Make sure you hurry up though, because the clock continues ticking.




No more possible moves. Restart?
If you restart the game, your highest score will be counted as your final score. Your score will only increase after you have reached the amount of points you achieved before you restarted the game.