The GameDuell fairness guarantee
Equal starting conditions. Both players get the same sets, cards or levels.
Fair matching. You can only play against opponents that have a similar skill-level.
Free selection of opponents. It's you who chooses whom you want to play with.
Read more about
Fair-play at GameDuell
FreeCell Rules
Brief Introduction
FreeCell is one of the most loved variations of Solitaire. It is played with 52 cards which are distributed among eight columns at the beginning of the game.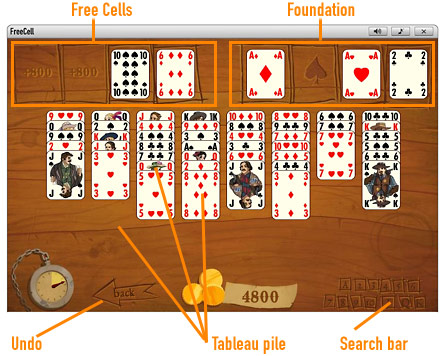 Object of the Game
Move the cards from the 8 columns (center) to the four foundations (top right).
The cards must be placed on the foundations according to their suit and in the correct order: Ace-2-3-4-5-6-7-8-9-10-Jack-Queen-King.
How to Play
At the beginning of the game, the cards are mixed throughout the 8 columns.
You must strategically arrange the cards so that you can move them to the foundations beginning with the aces.
Moving Cards:
You may lay a card on top of another card in one of the columns only if its value is one more than the value of the card you are placing it on top of. It must also be the opposite color (as in Solitaire). Example: A black 8 may be placed on a red 9, but not on a black 9.
FreeCells:
There are 4 free cells to help you rearrange your cards. You can place any card you wish onto one of these four cells. It is best to have a strategy for removing your cards before you even consider placing them on a free cell. You can move a card to a free cell by double-clicking it.
Moving Cards to the Foundation:
Cards that can be placed on the foundation and are no longer needed are automatically moved to their appropriate place in the foundation. Cards that you may still need are not automatically moved. You can manually move them by double-clicking on them. Once a card is placed on a foundation it may no longer be removed.
Moving Rows:
If cards are ordered in a row (black 6 on red 7 on black 8) then you can move the entire row onto a valid card (in this example, a red 9). This is only possible when there are enought empty free cells.
Free Columns
Once you have completely cleared a column, you can use the empty spot for other cards.

Controls
There are two ways to move cards:
1. Click on a card and drag it to the position in which you would like to place it. Once you have reached that position, release the button.
2. Click on the card. After doing so, click on one of the columns and the card will be moved.
Scoring
The scoring system is relatively simple. Each card you place on the foundation gives you 1000 points. Each column that you clear gives you 500 extra points.
You receive an additional 2500 points for each suit that you move entirely to the foundation. Once you have successfully completed the game, you will receive a time bonus of 50 points for each remaining second.
The free cell bonus points could decide between victory and defeat. The free cell bonus points increase by 200 each time you place a card on the foundation. The bonus is redeemed when you place a card on a free cell. Try to drive the bonus as high as possible by keeping these cells empty as long as possible.
Once you realize that you cannot get any further in the game, it's best to quit it as quickly as possible. In cases such as this you will receive a bonus point for each remaining second.
Undo

Using the "back" button, you can undo your last move. Use it carefully because each move you undo costs 3000 points.
Search Bar
The search bar helps you find certain cards more quickly. For example, if you are in search of the 6 but are unable to find it, position the mouse over the number in the search bar and the card will light up.
Strategy
Strategy is an important factor in FreeCell.
Try your best to always leave two free cells empty. When you place a card onto a free cell, only do so once you have a plan to remove it again. The biggest mistake you can make is to occupy all four freecells too quickly.
Try to clear all the cards in a column as quickly as possible. Once you have done so you can use this column as a place holder.
Try to move cards with the lowest values to the foundations. Doing so will give you more room to play.