The GameDuell fairness guarantee
Equal starting conditions. Both players get the same sets, cards or levels.
Fair matching. You can only play against opponents that have a similar skill-level.
Free selection of opponents. It's you who chooses whom you want to play with.
Read more about
Fair-play at GameDuell
Fluffy game rules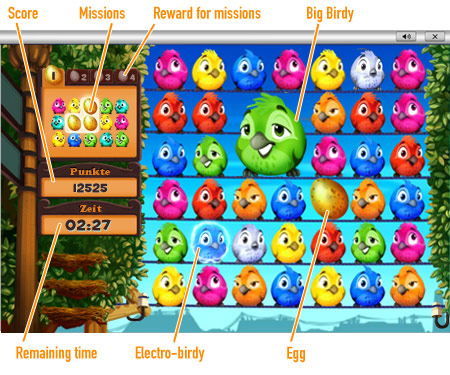 Getting Started
Shift and slide the rows of birdies to form groups of three or more like-colored birdies.
Complete the missions in the upper, left-hand corner of the screen by clearing the required amount of each colored birdies.
You can collect eggs by completing missions. You will proceed to the next level once you've formed a group of three or more golden eggs.
How to Shift and Slide
You can shift and slide rows of birdies horizontally or vertically to form groups of three or more like-colored birdies.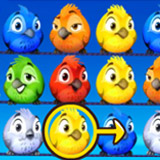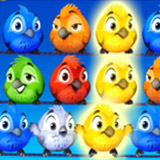 The three birdies don't have to be in the same row; you can also form L-shaped groups across rows.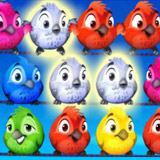 You will be shown a possible move if you don't make a move for 10 seconds.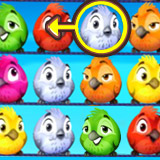 Hints are free, so no penalty points will be deducted for them.
Controlling the Birdies
Slide a birdy where you want it by dragging and dropping it to the desired location.
Your Missions
One important objective is fulfilling your tasks. A mission is completed by clearing a specific amount of birdies in specific colors.
The missions can be found at the top, left-hand side of the screen.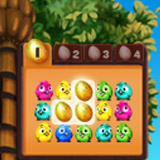 Once you clear the necessary birdies, a golden egg will appear on the screen.
The Eggs

An egg appears on the screen once you fulfill a mission.
Form a group of 3 or more eggs to proceed to the next level. They are combined just like combining birdies, horizontally or vertically.
Hint: You only need 3 eggs to form a group but sometimes it's easier if you unlock a fourth egg.
Electro-Birdies
Forming a group of 5 or more birdies will unlock an electrified birdy.
If you clear the electro-birdy within 3 moves then you'll automatically clear all 8 birds surrounding the electro-bird. You'll also earn extra points!

Big Birdies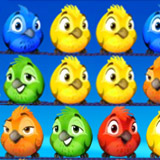 If you clear a square of like-colored birdies, a big birdy will fly onto the screen.
This birdy can also be cleared by joining it into a group of three or more like-colored birdies. Clearing a big birdy will earn you extra points.
Hint: Clear the big birdies as fast as you can. They will block you from sliding certain rows and columns.
Levels & Time
Fluffy has 3 levels and the mission difficulty increases with each new level. The regular playing time is 4:30 minutes.
When the time is up the game is over.
Scoring
Fulfilling a mission
500 points
Earning an egg
500 points
Completing a level
9,000 points for a group of three eggs
12,000 points for a group of four eggs
Forming a combination that clears 2 or more groups with one move
100 extra points
Big birdy as part of a group
300 extra points
Electro-birdy as part of a group
300 extra points
Time Bonus
100 points for each remaining second
Tips & Tricks
At the beginning of each level, you should try your best to fulfill all missions.
Once all three eggs are on the screen you should do your best to form a group with them as quickly as possible.
Sometimes it's easier to create a group of three eggs by earning a fourth egg. It might be easier to simply clear groups of birdies until the eggs are positioned well, rather than concentrating on only the eggs themselves.
It's best to form groups of birdies at the bottom of the screen as they sometimes cause chain-reactions.
Try to clear big birdies and electro birdies as quickly as possible.