The GameDuell fairness guarantee
Equal starting conditions. Both players get the same sets, cards or levels.
Fair matching. You can only play against opponents that have a similar skill-level.
Free selection of opponents. It's you who chooses whom you want to play with.
Read more about
Fair-play at GameDuell
Crazy Eights game rules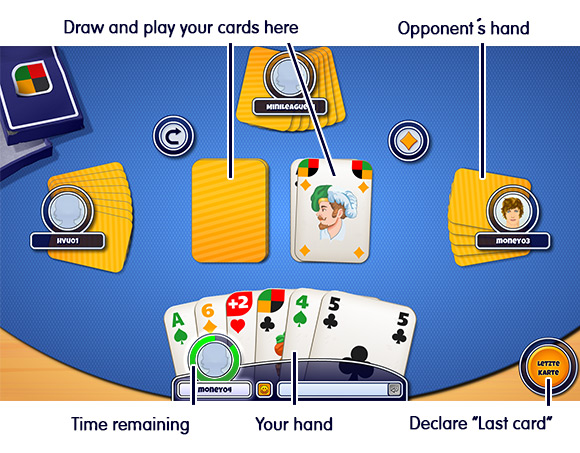 Object of the game
Be the first to play out all cards in your hand.
The player with the fewest negative points at the end of the game wins.
How to play
A game can consist of several rounds. When this is the case the dealer rotates in a clockwise fashion.
The round begins once all players are at the table.
The round ends once one of the players has played out all of his/her cards.
The game is played according to the rules for Crazy Eights.
Each turn consists of one of the following actions:
Playing a card
Drawing a card
Reacting to one of the "action" cards (draw two, skip, choose a color)
Controls
Click on the card in your hand you want to play.
Click on the stockpile (face down) in the center to draw one (or more than one) card.
---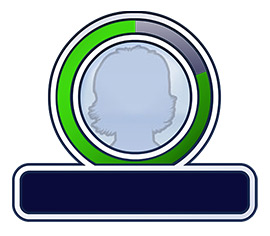 The clock displays the time you or your opponents have to complete your turns. Generally, you will have 15 seconds to take your turn. If you take longer than this, you will lose the game/round. The clock is always displayed next to the player whose turn it is.
---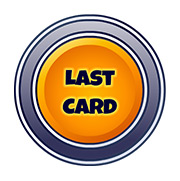 This button indicates that you are down to your last card. Don't forget to press it - we recommend doing so before playing your penultimate card.
---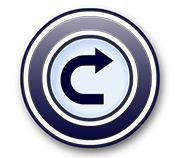 This symbol in the top left-hand corner displays the current direction of play.
---

By clicking on the game rules button, you can view a short overview of the rules of Crazy Eights.
---

You can call up your current score at any time by clicking on the score button. This is especially useful during multi-round duels.
---

You can turn the sound on and off by clicking on the loudspeaker button.
Chat
You can chat with your opponents in each game of Crazy Eights.
---

Simply then type your message in the Chat input field.
---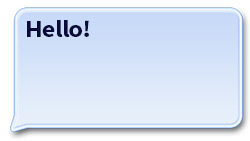 Pressing ENTER or clicking on the symbol sends the message to the other players.
---

If you'd prefer not to receive Chat messages during the game, you can turn this function off by clicking on the Chat button. Click again to turn it back on.
---

Clicking on this button reveals the Chat history, displaying all messages sent during the game.