The GameDuell fairness guarantee
Equal starting conditions. Both players get the same sets, cards or levels.
Fair matching. You can only play against opponents that have a similar skill-level.
Free selection of opponents. It's you who chooses whom you want to play with.
Read more about
Fair-play at GameDuell
Gameplay and Controls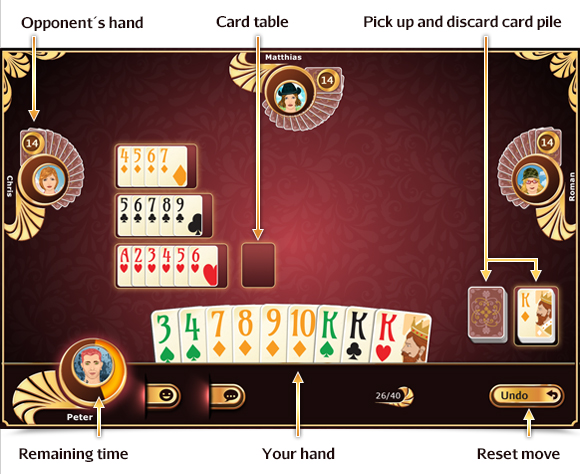 Aim of the game
Get rid of all the cards in your hand by placing or melding them in sets or runs on the table.
How to play
One game consists of one or more rounds. In games with multiple rounds, the dealer rotates clockwise.
The round starts as soon as all players are at the table.
The player with the least minus points at the end of the game wins.
The game is played according to the International Rules with the exception of scoring and the game variants.
Each turn consists of the following:

Draw a card from one of the two piles.
Place a card/cards, meld and/or replace a joker.
Discard one card.
Controls
To move a card, select the card and drag it to the desired position, the pile, your hand or the table. Alternatively, you can click on the card and then click on the desired position. In some cases it is also possible to simply double click on the card using the left mouse button.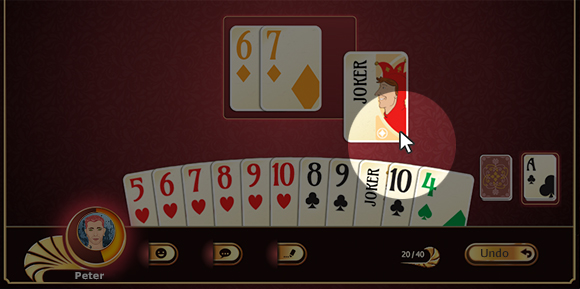 The clock shows how much time is left of your turn or your opponent's turn. Usually 90 seconds is given per turn. Shortly before your time runs out a sound will signal to warn you. If you do not complete your turn before the time runs out, you lose the round/game.
The position of the clock indicates whose turn is it.

The undo button allows you to take back cards that you have placed by mistake, for example, when the minimum points required has not been reached.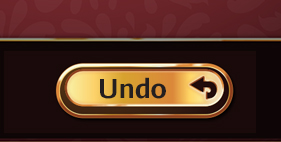 As soon as the minimum value has been reached, the undo button will disappear.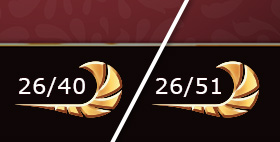 Click on the Game Rules button to view a short summary of the Rummy game rules.
Check the results of previous rounds by clicking on the Results button. This can be useful for games with multiple rounds.
Switch the game sounds on and off by using the Speaker button.

Chat
You can use the smileys and phrases to communicate with your opponents in all Rummy games.
To send smileys, open the smiley menu by clicking on the corresponding button and select a smiley.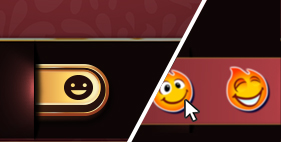 To send phrases, open the phrase menu by clicking on the corresponding button and select a phrase.